Ultimate Business Card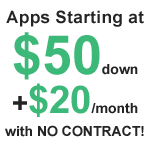 Brand. Refer. Capitalize.
The Ultimate Business Card App is an unlimited, trackable, business card that functions as a limitless referral source for you and your business. Whether you or a referral partner are giving out your information, you'll see who recommended you and you'll get the email address of the person to whom you are being recommended. You will never have to wait for referrals to contact you off a buisiness card that you didn't eeven know was handed out. NOW you are in control of the entire referral process.
Starting at just $50 down and $20/month with no contract, the Ultimate Business Card App is the easiest way to get yourself mobile. At that price you get an easy to distribute app with all of your contact info, custom referral email, and photo gallery all tailored to your particular business. Want to add additional information and features? No problem! Just let us know what you want and we will get you a quote; most add-ons run between $50 to $100, so we are still the best deal in the app world!
Our Ultimate Business Card App includes:
A page with simple instructions on loading your app
Your app on Google Play Marketplace
One page for your information
One custom email referral link
One custom map link
Custom header logos
Custom loading page
Custom smart phone icons
User up datable photo gallery
View Examples
Custom Apps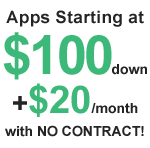 Do More with Mobile.
Anything you can do on the web we can do in an app! You can take payments on your mobile device, why not handle the rest of the sale on that same device? Want to capture information in the field in real-time? Schedule appointments anytime anywhere? We can help integrate your existing web services into an app that you control.
Whether you already have your app idea or are not sure how best to leverage mobile to improve your business, we can help. Give us a call or drop us an email and we will be happy to help you navigate all of the options and make sure you get the right product for your needs.
View Examples
Web Development
Responsive Design, Mobile Sites and More.
"Mobile to overtake fixed Internet access by 2014" is a widely used quote from one study. Others state they expect mobile usage to dominate in the next three years. Regardless, one thing is clear and that's mobile internet usage is the next big thing in internet traffic. Half of the internet searches being made today are on a mobile device, is your website mobile ready? What about a tie-in app for your business? Do you need an internal application to make your company more agile and functional? We're here to help!
View Examples
FAQ's
Q: Why do I need an App?
A: Think of it as another tool to help your business. Just as having a website became a necessity, so too will mobile / web applications. Our flagship Unlimited Business Card App is the perfect referral tool for your business.
Q: Does the person I want to send my info to have to have a smart phone?
A: Nope! Only the person sending the info has to have the smart phone.
Q: What smart phones / tablets work?
A: Devices running iOS (iPhone, iPad and iPod touch), Android devices (Droid, Nexus, etc.), Windows Phones and newer Blackberry devices. Pretty much anything that has a web browser will work!
Q: Why do I need hosting?
A: To make the app as easy as possible to distribute we create a webpage with instructions on loading the app on various devices. Also, some smart phones will use a web version of the app and information has to "live" somewhere.
Q: What the heck is a subdomain?
A: It is a prefix to a web address, for example YourApp.app-platform.net.
Q: Will my app have an icon or do I get that stupid bookmark icon?
A: Your app will have custom icons on iDevices, Android devices, and windows phones!
Q: Will my app be in the Google Play Store (Android Market)?
A: Yes! We submit all of our apps to Google so your app will be searchable.
Q: Will my app be in the iTunes store?
A: Unfortunately submitting apps to the iTunes store is costly and can take a very long time. However, our web app functions exactly like an app from iTunes with custom icons and loading screens. If you would like to submit your app to Apple App Store yourself, we will compile an iTunes friendly version of your app at no additional charge.